Re-Elect Cherryl Strathmann
for District 20 Kane County Board
My name is Cherryl Fritz Strathmann and I am asking for your vote to re-elect me to Commissioner for Kane County Board.
I am long time resident of Elgin. I raised and educated my kids in Elgin. We have all attended U-46 schools and Elgin Community College. I was a small business owner, a Nationally Certified, Licensed Massage Therapist in Private practice from 1991- 2019. I had to stop my practice out of precaution during the pandemic.
I have been proud to serve on the Board for Kane County. I have been active and engaged in social issues all of my adult life, so when State Senator Cristina Castro asked me to run for this seat, it was the natural next step. I am concerned about our future with clean safe drinking water, and the tremendous effects of climate change. I educate myself with scientific data and protocols. I am interested in the quality of life for all folks who live and work in Kane County. I am passionate about our political climate, and am willing to do my part to preserve and protect our way of life in the Beautiful Fox River Valley.
Why Cherryl is Running
Cherryl has been an activist all of her life, starting with the Equal Rights Amendment in 1973. She has served her community over the years, always looking for ways to make a difference. When Barack Obama started his campaign, Cherryl started by making phone calls from home. But when asked if she wanted to go to Iowa to knock on doors for the campaign, she asked her husband Carl to join her , and they were off. Together they knocked on doors in four states. They held phone banks in their home, sometimes with so many people, some were outside on the deck, or standing at the kitchen counter. When the successful campaign was over, they were looking for the next way to be involved.
Then Former Senator Mike Noland invited several constituents to lunch, Cherryl and Carl among them. The take away from that lunch was, to quote former speaker of the house, Tip O'Neill, "All Politics Is Local." Thus began the next chapter. Carl was elected as a precinct committeeman, then elected as Chair of the Elgin township Democrats. Cherryl was given the designation as Wingman. Never interested in grabbing the spotlight, or making the headlines, Cherryl worked to facilitate monthly meetings, helping in any way she could. She opened her home again, this time to host the annual Ice Cream Social, and National Night Out.
For several years their driveway was where the float was built for the 4th of July parade. Her job in the parade was to make sure the people along the parade route stayed cool. This was accomplished by riding in the back of the truck pulling the float, and using Supershooter squirt guns to cool the crowds. It was great fun for everyone!
Then in the fall of 2019, Cherryl and Carl were talking to Senator Cristina Castro. They were looking for someone to run for Kane County Board, District 20, a seat once held by Senator Castro herself. The incumbent, Penny Wegman had decided to run for County Auditor, creating a vacancy. When asked by Senator Castro if she would run, Cherryl took a day to seriously consider if she wanted to step up in a whole new way. Never one to shy away from a challenge or a job that needed to be done, she said yes.
Cherryl has been a Master Gardener for Kane County through the University of Illinois Extension service since 2012. Many of the skills she has used in this capacity will serve her well as a Kane County Commissioner. Gardens like Communities need good planning, persistent care, troubleshooting and an understanding of what is needed to make all this happen, Including patience and adaptability when a 'Plan B' is necessary. A cooperative attitude, and the ability to work with others assures success, both in gardening and governing. She is committed to helping to improve our community. A community like a garden functions best when there is diversity.
Cherryl is planting seeds for a better Kane county. Kane County grows stronger with Cherryl.
Cherryl has served on the following committees
Legislative: Cherryl served as co-chair, where she supported bringing back millions of our tax dollars for our infrastructure needs, creating thousands of good paying jobs in our area.
Energy/ Environmental committee: which worked to get solar panels at the judicial center, a projected savings of $2million.
Public Health: worked to keep Kane County safe, and set up vaccination centers. She has also volunteered at vaccination centers.
Forest Preserve Commissioner: where Cherryl sits on the Planning and Utilization committee, and the Finance and Administration committee.
Ad Hoc Committees
Grand Victoria River Boat Fund: which awards grants to local community groups, helping neighbors in need.
Reapportionment Committee: every 10 years, after the decennial census, the County board is required to redraw its district maps to assure that each County board member represents the same number of residents, while following State and Federal regulations for Non-descrimination, and Voting rights. Cherryl attended Town Hall meetings up and down the county to listen to input from citizens.
American Rescue Plan Act: Cherryl helped deliver needed support to people impacted by the Pandemic.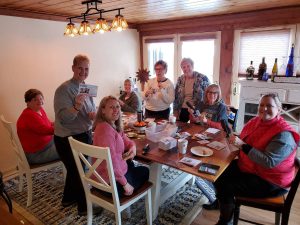 Cherryl, a result driven leader, has delivered for the people of Kane county, and folks living in her district.
Cherryl is endorsed by Congressmen Bill Foster, Raja Krisnamoorthi, State Senator Cristina Castro; State Rep. Anna Moeller; Kane County sheriff Ron Hain, and Elgin City Council member, Corey Dixon.